So, we have meant to move both produciton servers and develoment servers accross to a virtual server platform for a while now – but time / development time has been at a minimum. Recently however I came accross this great post by – Tinkererguy on Tinkertry.com. Tinkererguy had picked out a very similar spec whitebox ESXi to my goal – a resonably priced / high-end workstation, capable of easing us across to virtualization without a large supplier bill!
The kit :
| | | |
| --- | --- | --- |
| Case | Antec Take4 | TAKE 4+650 UK |
| Motherboard | Asrock Z68 PROFESSIONAL GEN3 | Z68 PROFESSIONAL 3 |
| CPU | Intel Core i7 2600 | BX80623I72600 |
| Memory | Corsair Vengeance 16GB DDR3 1600Mhz | CMZ16GX3M4A1600C9 |
| RAID Card | LSI MRSAS9260-4I | MRSAS9260-4I/KIT |
| HDD | WD 1TB 3.5″ SATA3 6Gb/s Caviar Blue (x4) | WD10EALX |
| Backpane | Icy Dock MB994SP-4S Drive Enclosure | MB994SP-4S |
| 2.5″ HDD | Seagate 750GB 2.5″ | ST9750420AS |
| Flash Storage | Use an existing – as ESXi is low IO | |
The kit was selected for the following reasons:
[tabs] [tab title="Case"] On several occasions I have been disappointed with the quality of whitebox cases, but workstation and server – it seems that there are "Budget" cases and "Enthusiast" cases, but nothing inbetween. The Antec Take4 is a high build quality, 4U rackmountable server case, with a fairly good airflow design. I would definately mark the case down for the inability to remove the 4x HDD trays which I would have liked to maybe replace with a better HDD backpane. Rigidity is good, and there was plenty of space for fitting 4 internal 3.5″ HDDs and my 4 bay 2.5″ HDD backpane. [/tab] [tab title="Motherboard"]
Motherboard is compatible with ESXi v5.0
Individual SATA3 drives are detected, but when configured in RAID they are still displayed as individual drives.
Both onboard 1Gbps LAN are detected and work fine.
Supports VMDirectPath (VT-d) using my Core i7 2600 (note the 2600K does NOT support VT-d)
[/tab] [tab title="CPU"] According to PassMark (link) the 2600 is the fastest mid-priced CPU, capable of VT-d with a resonable 'oomph' behind it!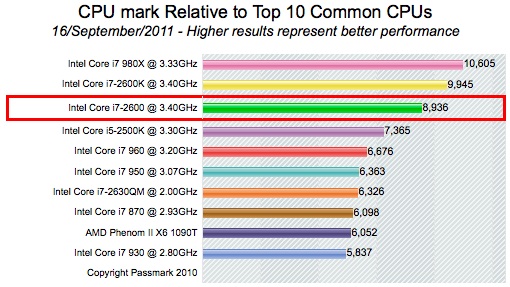 [/tab] [tab title="Memory"] Quite simply, most of the higher end DDR3 would be suitable for this project – so I picked Corsair, a brand that I have used many times before in the past.[/tab] [tab title="HDD"] Caviar Blue drives offer a balance of performance and reliability. The SATA3 6Gb/s interface should help give good transfer speeds for the main data store. [/tab] [tab title="RAID"] The LSI range have always been reliable, and as well as being on the VMWare compatability list
New SATA3 6Gb/s
Provides RAID 10 (my chosen setup see HERE for RAID types)
Great future-proofing with upgrades such as CacheCade, BBU etc
[/tab] [/tabs]
Next step – build a Whitebox VMware ESXi 5.0 server (wait for the bits to turn up, and hope all works as planned!)