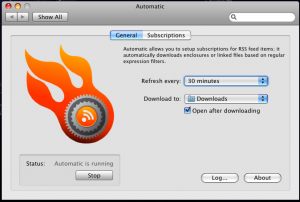 I while ago I set out to automate the process of downloading TV shows, instead of going through the usual process of finding the torrent, adding to uTorrent GUI on my homeserver, and then filing the download in the correct folder.
I followed this post on Lifehacker.com – which seemed like it would be ideal. I installed TED on the homeserver and thought I had it configured to automatically download the torrent file… not quite. I found TED to be quite buggy, and would often just hang with no downloads – even though they were available on the source website. This brought me on to another application – Automatic (MacOS)
Automatic is a Preferences pane plugin – and it sits quietly in the background, checking your custom list (from a massive predefined list) of TV shows for new torrents. When one is found, you can choose to launch your torrent app or save the torrent file to a folder – which is where Dropbox comes in!

I chose for my torrents to be saved in a folder "TorrentLoad" within Dropbox on my Mac, which in turn the syncronises the torrent onto the same folder within Dropbox on my homeserver. As uTorrent is set to watch this folder for new torrents – it automatically starts downloading the TV show!
It has been working flawlessly for about 3 months now – and hasn't missed a show.
Links :