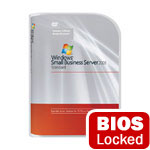 When installing Small Business Server 2008 R2 on a brand new HP Proliant ML110 G6, we kept getting the following error when trying to boot from the HP Quickstart Installation CD. It could not progress any further :
SBSBIOSLock
could not find the media
It turns out to be related to the fact that when you enable RAID mode on the SATA controller, the SATA DVD isn't happy – and although will recognise as a boot device and start booting from CD, will not allow you to progress.
The simple work around was to install using a USB DVD drive, which worked fine – but I would love to know if anyone has a reason why the HP BIOS check cannot function correctly whilst SATA mode is set to RAID. Leave me a comment below.